Polycarbonate Enclosure 5" x 5" x 3"
maximize
Cover screws and Mounting screws included.
Polycarbonate Enclosure
Made In the USA
5" x 5" x 3"
Standard Color – light gray with a high gloss finish
Best material – bases, opaque covers and clear covers are all made of high-impact, UV resistant polycarbonate
Easy ordering – One part number equals one completely assembled enclosure
Super easy use – mounting flanges integral, so no extra hardware needed
Flexible Interior Mounting – bosses on rear wall and lid of opaque enclosure provide multiple mounting options for din rail, back panels, or other components
Advanced face plate mounting system – Brand new completely unique and easy
Secure – Choose your level of protection: pad lockable, tamper screw or tamper tag capable
Frequency Friendly – Available with absolutely no metals of any kind on the enclosure which is extremely favorable for sending and receiving wireless signals
UL-50 / c-UL Listed (file # E207562)
Size
5" x 5" x 3" (127 x 127 x 76.2 mm)
Material
Hinged Opaque Cover Integrated Locking Latch
---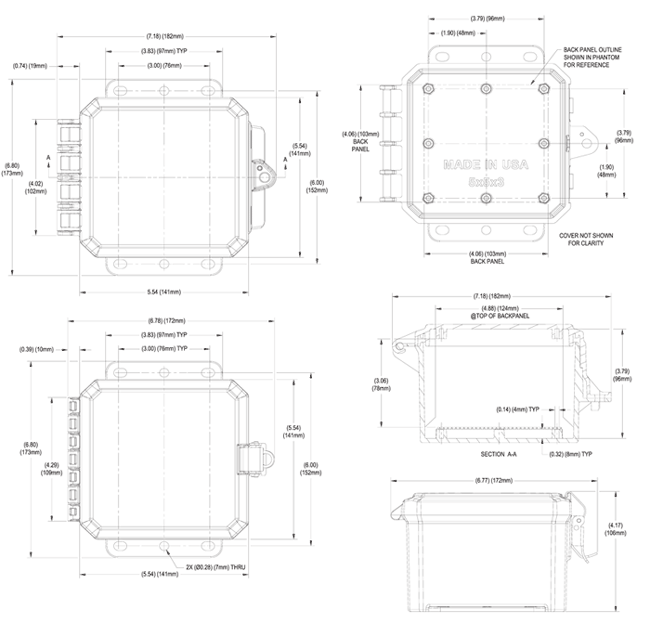 Features
Sealcon's polycarbonate enclosures are available in 11 standard configurations. Box configurations include hinged or non-hinged lids in 2-screw, 4-screw, or stainless steel metal latched lids.
Made in the USA
Sealcon's traditional high impact polycarbonate enclosure offering including eleven sizes from 4x4x3 through 18x16x10
Light gray in color with high gloss finish
Available in four configurations including screw cover, hinged w/two screws, hinged w/four screws and hinged with locking latch
Available in two latch styles, stainless steel (LL) or non-metallic (NL) locking latch
All sizes and configurations are available in clear or opaque lid
Brass inserts for securing mounting feet or flange, optional back panel and lid UL/C-UL-50 listed Nema 1,2,3,3R,3S,4,4X,5,12,13 and "S" series and "H-6P" series are NEMA 6/6P, marine use rated
Available Options:
Hinged Cover
Low Profile Hinged Cover
Clear Cover
Integrated Mounting Flange
Non-Metallic Locking Latch
Technical Data
Protection
IP66, IP68, NEMA 4X, NEMA 6P
Impact
Instrumented Dart Impact @ 73° F in-lbs. 565
Fire Resistance
UL 94 5VA
Standard Color
Light Gray
Transparent Cover
Polycarbonate
Cover Screws
Self-Tapping Screws
Mechanical and Thermal Test Spec.
Instrumented Dart Impact @ 73° F 565 in-lbs
Made in the USA
Falling Ball Impact @ 73° F: UL-746 900 in-bls
Deflection Temperature @ 264 psi: ASTM D648 270 Deg F.
Modulus of Elasticity: rn ASTM D790
Temperature Range Deg. F -40 to 265
Flammable / UV Ratings Test Spec.
Flame Rating - UL 94 5VA
Outdoor UV Exposure - UL F1