M12 Power Right Elbow Connector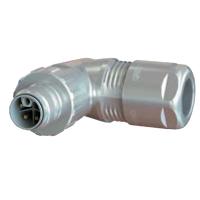 maximize
Inserts & Contacts sold separately.
Features
This circular connector opens the door to entirely new applications and capabilities! Its high power transmission, compact design and the large temperature range are extraordinary features. The electro-mechanical features of this compact power connector are convincing!

• Power transmission to 16A and 630V
• Protection IP67 and IP69K
• Cable diameter up to 11mm (0.43")
• Temperature range to 125 degree Celsius
• EMI (EMC) Shielding in standard version
• K, L (Coding (5 positions)
• Robust metal housing
• Compact designs
• Optional stainless steel
• UL Certified
Technical Data
Pressure Rating
IP 67 / IP 69K
Operating Temperature
-40°C to 125°C (-40°F to 257°F)
TYPE: Power or Signal
CONTACTS: Crimp & Screw
PIN-OUT: 4, 5 (4 + PE)
AWG: S & T Screw: 16-20 K & L Crimp: 14-18
AMPERE: 12 - 16A
VOLT: 63 - 630V
CABLE RANGE: 3-11 mm (.12"- .43")
TEMPERATURE: -40&degF to 257&degF (-40&degC to 125&degC)
OPTIONS: Threaded, Over mold cord sets, 316L Stainless Steel, Black Chrome-Plated.
UNIQUENESS: Low profile, High power transmission, IP67 & IP69K, Robust metal housing, EMI ready UL, VDE.
APPLICATIONS AC / DC Motors, Motor Control Switches, Aux. Power Distribution, LED & Conventional Lighting, Network Devices, Robotics.
Downloads
PDF Files
Assembly Instructions