UL Polycarbonate Series O Enclosures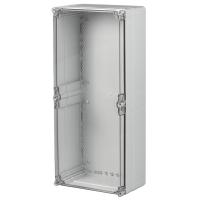 maximize
Cover screws, assembly screws and plugs are included.
Features
Series O, W enclosure in brief:
Series O has plain sides or with metric knockouts
Series W has pre-assembled hinges and quick release latches as standard, available with plain sides.
Available in 8 base sizes, one base depth and one cover height
Series O have 55-millimeter-deep extension frame available for alternative depths in all sizes. Several extension frames can be used on top of one another in one enclosure.
Cover and cover screws equipped with sealing holes
Cover can also be mounted onto the back of the base
Wide range of accessories available.
Contents of the product package:

132-millimeter-deep standard enclosure includes:
Enclosure base
Cover
Cover screws or latches and hinges
Mounting screws
187-millimeter-deep standard enclosure includes:
Enclosure base
Cover
Extension frame
Cover screws or latches and hinges
Mounting screws
Screws for the extension frame
Technical Data
Impact
IK 08 (-13&deg 95&degF / -25°C...+35°C)
Operating Temperature
-40°C to 80°C (-40°F to 176°F)
Standard Color
Gray RAL 7035
Transparent Cover
Polycarbonate
Cover Screws
Fiberglass reinforced polyamide
UL File no:

E189312

UL category:

NITW, NITW7

Environmental type (UL):

4, 4X, 12, 13

Insulation:

Class ||

Outdoor suitability:

UL 746C (f1) rated material

Base:

Fiberglass reinforced polycarbonate

Cover:

Polycarbonate

Cover screws:

Fiberglass reinforced polyamide
Related Accessories