Fiberglass reinforced polyamide Romex Strain Relief Fittings NPT 3/4"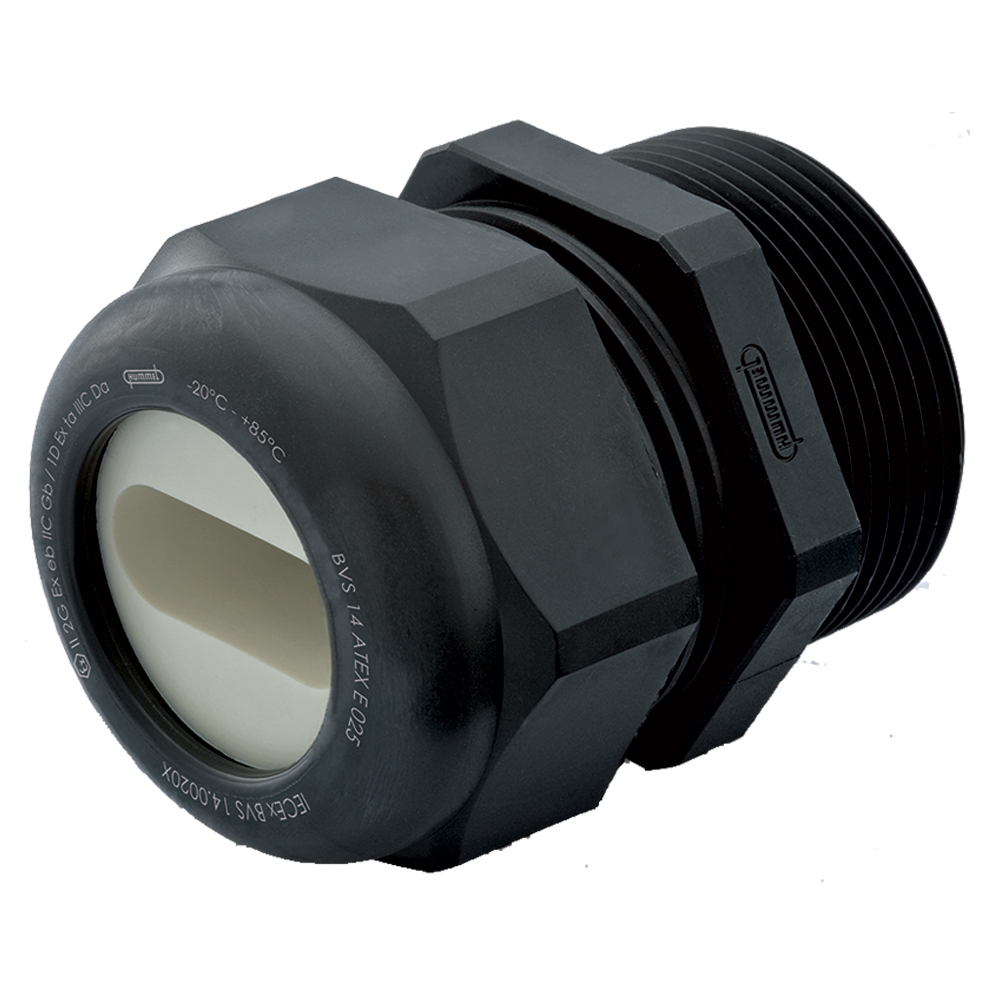 Black Fiberglass reinforced polyamide Romex Strain Relief Fittings NPT 3/4"
Thread Type: NPT 3/4"
Locking Nut Sold Separately
Hummel
HSK-K-FLAKA-Ex-Active
Material
Fiberglass reinforced polyamide
---
Body Length (B)
1.22" (31 mm)
Thread Length (D)
.55" (14 mm)
Wrench Flat (F1/F)
1.3" (33 mm)
Slot Size
.24" x .55" (6 x 14 mm)
Suggested Clearance Hole for Non-Threaded Mounting

Features
Flame protected - V0 Rated according to UL 94
Halogen- and Phosphorous free materials
Safety - Ratchet to prevent Dome from coming loose under vibration
Large Selection - Cable Range from .08" (2mm) to 1.38" (35mm)
Non-Corrosive - Resistant to salt water, weak acids, weak alkalis, alcohol, esters, ketones, ether, gasoline, mineral, animal & vegetable oil.
Durable - Rugged Construction
Environmentally compliant - RoHS & Deca BDE
The HSK-K-FLAKA-Ex-Active has been developed to meet the stringent requirements of EN 60079-0 , 60079-7 and 60079-31. IECEx Certificate of Conformity: IECEx BVS 14.0020X. This non-metallic solution for non-armored cables is designed for applications in electrical equipment and potentially explosive atmospheres.
Machine, apparatus and plant equipment
Measuring control and feedback systems
Potentially Explosive Atmospheres
Electrical Equipment
Industrial installations
and in all installations where excellent performance, fire resistance and no twisting or torquing of the cable are critical.
Technical Data
Pressure Rating
IP 68 with O-Ring
Materials
Fittings: Fiberglass reinforced polyamid
Form Seal: Elastomer
Optional O-Ring: FPM or Silicone
Optional Seal Ring: Polyethylene or Fiber-Reinforced Plastic
Operating Temperature
-20°C to 85°C (-4°F to 185°F)
Pressure Rating: (10 BAR) IP 68
Materials: Seal/O-Ring: NBR
* Sizes: M12 to M63 and NPT 3/8 to NPT 1-1/2 Available Colors: Black
High Impact Resistance: 7 Joule

Zones: 1,2,20,21,22

DIN EN: 60079-0: 2012

Downloads
PDF Files
Assembly Instructions
Related Accessories