Nickel Plated Brass Thread Adapter M25 x 1.5 to 1/2" NPT Threads
Nickel Plated Brass Metric to NPT Thread Adapter
with Buna-N O-Ring. Optional FKM or Silicone O-Ring.
Material
Nickel Plated Brass
---
Body Length (B)
.59" (15 mm)
Thread Length (D)
.28" (7 mm)
Wrench Flat (F1/F)
1.18" (30 mm)

Suggested Clearance Hole for Non-Threaded Mounting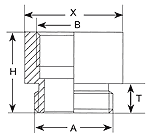 Features
Dealing with foreign products?
Is connecting a challenge?
Adapters will allow you to switch between PG, NPT & Metric threads to fit your application needs.


Technical Data
Materials
Fittings: Nickel Plated Brass
Form Seal:
Optional O-Ring: Buna-N, FKM or Silicone
Optional Seal Ring: Polyethylene or Fiber-Reinforced Plastic
Operating Temperature will vary based off selected O-Ring and the material of the product it is applied to.