M25 x 1.5 Nickel Plated Brass Standard Flex Cable Gland | Cord Grip | Strain Relief CF25MA-BR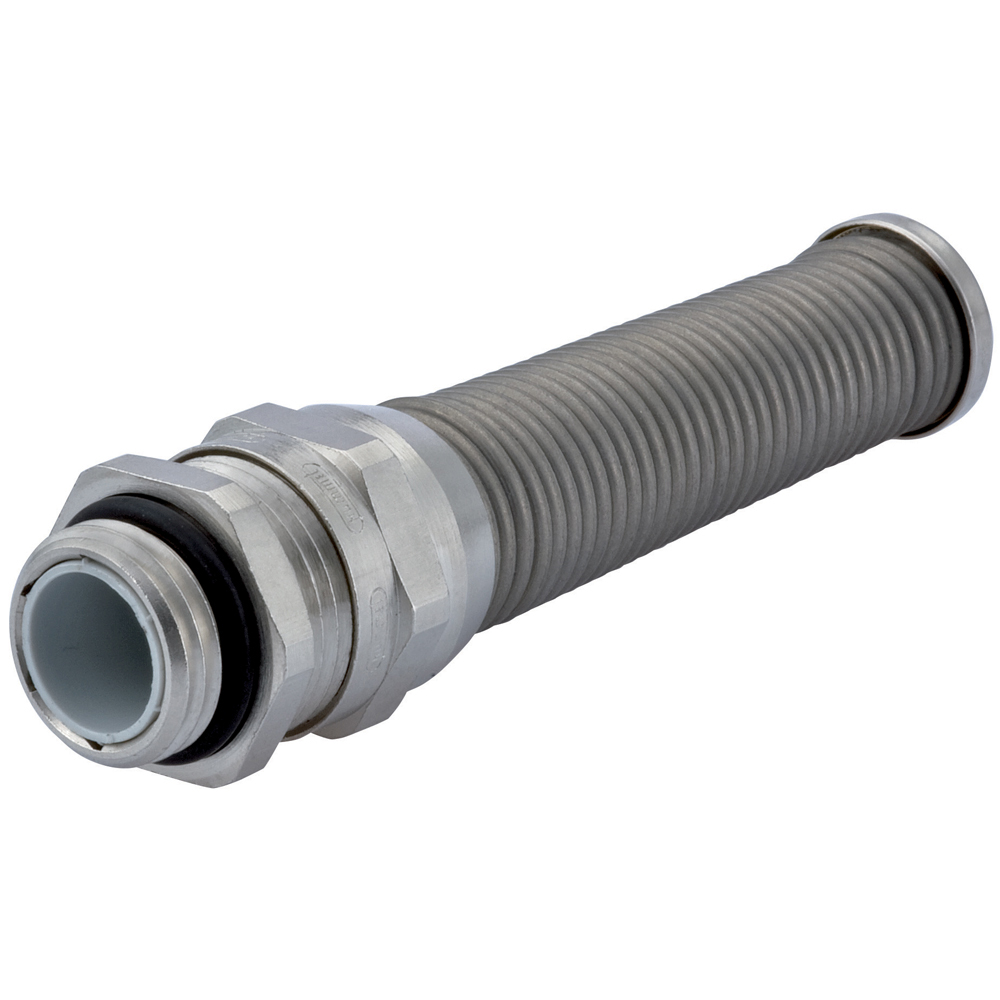 Nickel Plated Brass M25 x 1.5 Standard Fitting
Thread Type: M25 x 1.5
Locking Nut Sold Separately. Cable gland with flexible bend protection made of nickel plated brass.
Cable Range
.51" - .71" (13 - 18 mm)
Material
Nickel Plated Brass
---
Hole Diameter (A)
.98" (25 mm)
Body Length (C)
4.37" (111 mm)
Thread Length (D)
.28" (7 mm)
Wrench Flat (F1/F)
1.18" (30 mm)

Suggested Clearance Hole for Non-Threaded Mounting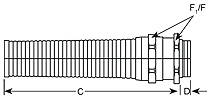 Features
Liquid Tight - Submersible to 300 ft. - Type Nema 4x & 6 (IP68 / IP 69 K)
Highest Pressure Rating - Patented form seal guarantees 150 psig (10 bar)
Flame protected - V0 Rated according to UL 94
Halogen- and Phosphorous free materials
Large Selection - Cable Range from .08" (2mm) to 1.38" (35mm)
Non-Corrosive - Resistant to salt water, weak acids, weak alkalis, alcohol, esters, ketones, ether, gasoline, mineral, animal & vegetable oil.
Durable - Rugged Construction
Environmentally compliant - RoHS & Deca BDE


This Nickel Plated Brass Strain Relief with M25 x 1.5 Thread will provide your application with a product made of exceptional quality.

Modularity: The Strain Relief allows you to increase and decrease the cable opening by just swapping out the standard and reduced inserts.
Technical Data
Pressure Rating
150 PSIG (10 BAR) Type Nema 4x & 6 (Submersible) - IP 68 / IP 69 K
Materials
Fittings: Nickel Plated Brass
Form Seal: Buna-N
Optional O-Ring: Buna-N, FPM or Silicone
Optional Seal Ring: Polyethylene or Fiber-Reinforced Plastic
Protection
IP 68 – 10 bar / IP 69K within the specific clamping range
Operating Temperature
-40°C to 100°C (-40°F to 212°F)

Nylon 6/6: V0-rated - Flame resistant, halogen and phosphorous free, self-extinguishing, non-toxic, fungus resistant. UL F1 UV Stable Rating for outdoor applications (Black Nylon Version Only)

*Sizes 3/8" NPT, M12, M16, PG7, PG9, and PG11 and all Multi-Hole Fittings in Nylon and Nickel Plated Brass have UR (ONLY)